Eliminate Debt | Increase Your Credit Score | Secure Your Financial Future
Chicago Bankruptcy Lawyer (2022)
Bankruptcy lawyer serving: Chicago | Cook | Lake | DuPage | Kane | Rockford Counties
Immediate protection from creditors. Guaranteed relief from debt.
The
guaranteed

,

fastest

,

least expensive

, and

least stressful

way to eliminate debt.
Individuals Obtain Bankruptcy Relief Under One of Two Chapters
Your circumstances will dictate the appropriate bankruptcy chapter you will need to file under. This includes: your goals; your assets; your income; your expenses; and your debts.
Read about both chapter 7 and chapter 13. While doing so, keep in mind the purpose of each chapter and your goals.
Better yet, schedule a free consultation with bankruptcy attorney Arthur Corbin. Arthur will use his expertise and experience to quickly analyze your situation and answer all your questions and concerns.
Fast, Inexpensive, Immediate Relief.
The "fresh start" bankruptcy. Eliminate most of your debts in as little as 4 months.
Find out how it works and if you qualify.
A Strategic Reorganization of Your Debts Using Federal Law
Restructure and consolidate your debts by reducing interest rates and balances and making affordable payments over a period of time.
Find out how it works and if you are eligible.
Chicago Bankruptcy Lawyer Arthur Corbin
Meet the lawyer you could be working with.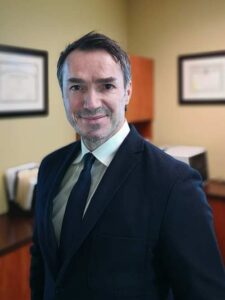 Bankruptcy Is the Guaranteed, the Fastest, the Least Expensive and the Least Stressful Way to Wipe Out Bad Debts
Guaranteed
Bankruptcy Is the Guaranteed Way to Stop Creditors and to Erase Debts
Bankruptcy is the only guaranteed way to stop creditor collections actions and to eliminate debt.
This is because bankruptcy is federal law. And creditors will comply with federal law because they have to. If they don't they will be sanctioned.
So, no more pleading for more time to make a payment. No more negotiating under their rules. No more being subjected to their demeaning abuse.
You will get your life back the instant you file.
Fastest
Least Expensive
Least Stressful
Taking That First Step Can Be Daunting
Taking that first step to deal with your creditors and their debt collectors can be daunting.
You may not know your rights
This may be your first time interacting with a lawyer
Heck, you may still be getting used to the idea of bankruptcy
I just want you to know that if bankruptcy is the right option, it will improve your life immensely.
Bankruptcy will wipe-out your debts, end the harassment and the lawsuits, and stop the stress.
Bankruptcy really is the ultimate debt relief.
Need help or have questions? Schedule a Free Consultation with Arthur Corbin.
HERE'S HOW TO GET STARTED
Prepare Mentally and Emotionally and Have Faith in the Process
Bankruptcy Is a Logical and Responsible Decision
Stop thinking with your emotions. Evaluating bankruptcy law as your debt relief option is a logical decision — it's a business decision.
Think of yourself as the CEO of a corporation with your family as the shareholders. Use all available laws to benefit yourself and your shareholders — that's what well-managed corporations do.
Unless you never intended to pay back your debts from the outset (this is called fraud), it's not your fault for taking advantage of the Bankruptcy Code.
Most people who use our bankruptcy laws are victims of unfortunate circumstances which wreck havoc on their finances:
Loss of employment or downturn in business
Family separation or divorce (loss of income or new expenses)
Serious health problems
Some people get into trouble by spending beyond their means because they were not educated about money and high risk credit — such as credit cards and payday loans. With bankruptcy, you can fix your spending mistakes and use your experience to rebuild a new financial future.
What's the cause of your predicament? Think about it.
The Bankruptcy Code has build-in provisions to determine if you're eligible to reduce or eliminate your debts. The law will dictate whether you qualify or not. But it's up to you to use it.
Start Rebuilding Your Credit by Wiping Out the Bad Debts
Creditors and their debt collectors are corporations that don't give a damn about you — you are just a money sign.
Creditors don't hesitate to take advantage of any available laws to maximize profit without any concern about your or your family's well-being — it's just business.
Use the Bankruptcy Code to eliminate the bad business relationships. Wipe-out your debts and creditors will come around again. Guaranteed. Why? Because this is how our system works — it's just business.
Your Life Will Improve Immensely
If bankruptcy makes sense (it doesn't make sense for everyone), chances are your life will improve immensely.
Stress will be reduced. Family relations will improve. Credit score will improve. You'll be able to sleep better. The Bankruptcy Code is the only way to guarantee an immediate stop to harassment and the elimination of unwanted debts.
You'll be in control again — of your finances, your future, your life.
I'll introduce you to the bankruptcy players, most important concepts, and some vocabulary. Learning about these basics will help you understand how bankruptcy works and if it's the right debt relief option
for you
.
Learn About Creditors, Debts, and Collections
Most people have a combination of different types of debts. And different debts can cause different collection issues (e.g. foreclosure vs. harassing phone calls).
In bankruptcy, these debts are classified into categories and priorities. The categories and priorities receive different treatment.
Accordingly, your debts will influence bankruptcy chapter (either chapter 7 or chapter 13) you will need to file under to attain your goals.
Schedule a
FREE

Consultation
Get expert advice. In person. By phone. By video conference.